### AVAILABILITY: Production of these Analog-VUMPs is delayed until about March 2023!! Sorry! We are not taking deposits at this time. ###
Analog VUMP Configurations:
Internal calibrations — Pre-calibrated to the "VU" standard (0 VU=1.23VRMS). An external switch selects ranges (-40VU to -15VU, -30VU to -5VU, and -20VU to +5VU). This is a great option for someone connecting to a soundboard wanting to have their signal calibrated to a known level. Calibration to other standards (0 dBV, 0 dBu, etc) by special request.
External level knob: This version lets you continuously vary the range shown on the meter. This is a good choice for someone who doesn't care about being calibrated to a reference level. It's great for leveling your guitar pedal volumes and just keeping your own setup the way you like it. You can also calibrate it to a standard by turning the knob, if you desire, however.
1/4″ stereo or mono jacks come with every base model. Option: Add XLR input/output.
Learn about custom colors! (+$60 for colors in-stock, or choose your own. Contact me first!)
What's an Analog-VUMP?? — It's the old-school analog VU meter version of my popular digital Mini-VUMP. Many of you asked for an old-school analog VU meter… here it is!
How do I buy one?? — Well, I have a precious FEW in stock right now. If you're one of the first people, you'll get the lowest serial numbers. Otherwise, with your deposit, I'll put you on a wait-list and expect to have them delivered to you in 2 months time, after you pay the remaining amount.
What are the features?? — Well, here's where I need your help. Many of you don't use XLR, so I'm going to make a 1/4″-only version to save you the cost of the XLR jacks. Some of you want it calibrated to a VU standard (1.228VRMS = 0 VU) with no knob on the front to accidentally bump. Others if you use different instruments and sources and want the ability to vary the "range" that the meter shows — You want the knob on the front. While my plan has always been to make the meter completely passive (no change at all to the signal), some of you might want a gain control too. This is all stuff I'd love to hear about from you!! Email me at colin.joyemusic@gmail.com with your thoughts! Here's my short YT video on calibrating Analog–VUMP to a sound board.
What does it cost?? — The first few units available are full XLR and 1/4″ models, as shown in the YT video above. They are $249 each. After those are gone, $50 puts you on a waitlist in the order I receive your payment. Please Paypal the $50 to me at colin.joyemusic@gmail.com . As usual, shipping to those of you in the Continental USA is FREE. International and HI/AK, the cost is $30 for 4-6 weeks or $50 for 1-4 weeks. Once your pedal is ready, I'll email you to collect the rest of the cost and then ship it out.
My introductory prices are: $199 for a 1/4″-only model with level knob on the front. $249 for 1/4″ and XLR model, which will probably have internal calibration pot with a range switch (-40dBV to -20dBV, or -20dBV to 0dBV).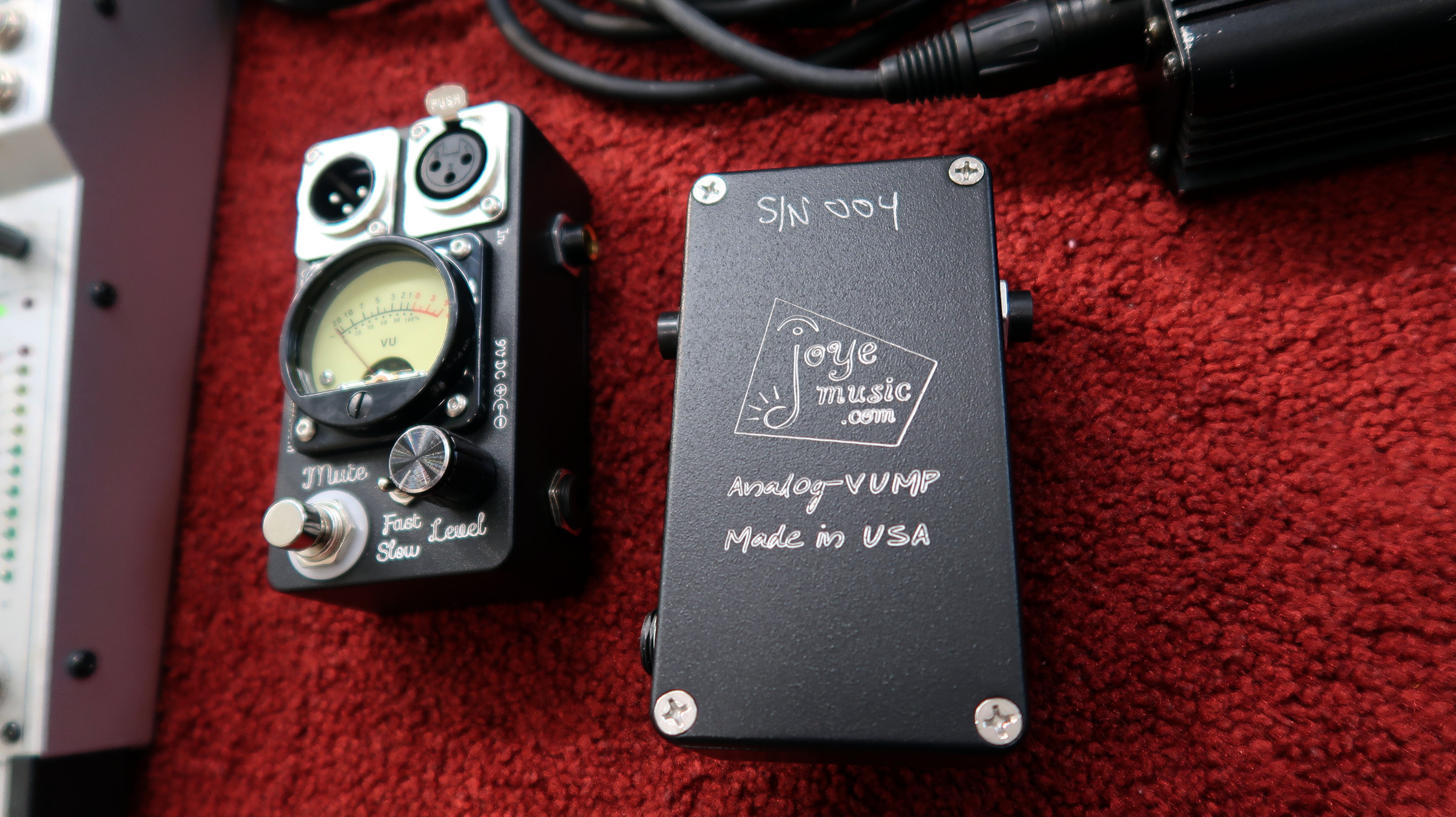 ——– TESTIMONIALS & UPDATES BELOW: (Newest at top) ———-
10/23/22: "Thanks again for your two meter devices [Mini-VUMP and Analog-VUMP; he has both!!]. They are both exactly what I was hoping for, each in their own way 🙂
I've been putting the Mini-VUMP in various parts of my pedal chain to gain stage the signal with a *precision* I couldn't even imagine before. And, I use it to set an input level to pedal compressors so that it is consistent on the next start up for playing or re-amping.
The Analog VUMP is delightful! It has a lively and responsive bounce. I use the "fast" setting for voice and keys, but back it off to the "slow" setting for fast intense transients like picked guitar. It's just what I was hoping it would be. 😀 — M.J., KS