Analog VUMPs 1/4″ only are now available (>5 in stock as of 8/14/23)
Analog VUMPs 1/4″ and XLR are not yet available (0 in stock) — Ask for special order, colin.joyemusic@gmail.com
Analog VUMP features:
Internal calibrations — Pre-calibrated to the "VU" standard (0 VU=1.23VRMS @1kHz). An external switch selects ranges (-40VU to -15VU, -30VU to -5VU, and -20VU to +5VU). This is a great option for someone connecting to a soundboard wanting to have their signal calibrated to a known level.
Fast/Slow response switch
1/4″ stereo or mono jacks come with every base model ($199).
—>> Optional: Add XLR input/output ($249). (Analog VUMP with XLR is not currently in stock! Contact me for special order).
MUTE footswitch
LED backlighting
Download the User Manual (v2)
Select a shipping option below and click the "Buy Now" button — Or just send an email to colin.joyemusic@gmail.com. If the PayPal button isn't working, you can Paypal the total to the same email: colin.joyemusic@gmail.com .



What's an Analog-VUMP?? — It's the old-school analog VU meter version of my popular digital Mini-VUMP. Many of you asked for an old-school analog VU meter… here it is!
How do I buy one?? — Well, I have a precious FEW in stock right now. If you're one of the first people, you'll get the lowest serial numbers. Otherwise I'll put you on a wait-list and contact you when your pedal is ready.
What are the features?? — Well, here's where I need your help. Many of you don't use XLR, so I've made a 1/4″-only version to save you the cost of the XLR jacks. These units come with internal calibration to the VU standard (1.228VRMS = 0 VU) and a range switch that changes the range of the meter by +10 or +20dB in order to get your signal in a comfortable range…. Guitar signals are typically around -20VU. Here's my short YT video on calibrating an older Analog-VUMP to a sound board. Calibration is internal now, so you don't have to do anything!
What does it cost?? — The cost is listed on the Paypal buttons above for each model. As usual, shipping to those of you in the Continental USA is FREE. International and HI/AK pay extra for shipping. My introductory prices are: $199 for a 1/4″-only model. $249 for 1/4″ and XLR model (special order).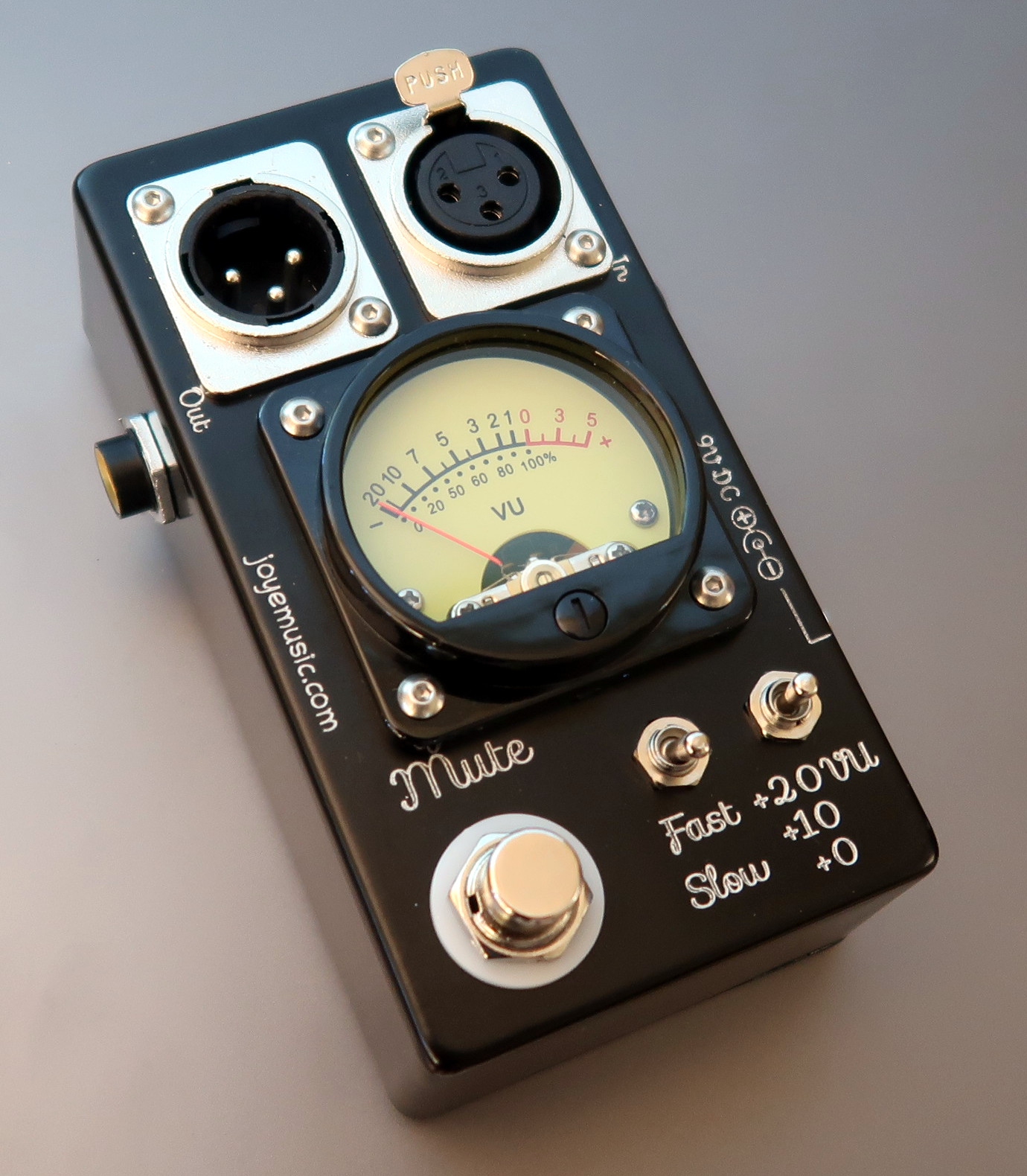 ——– TESTIMONIALS & UPDATES BELOW: (Newest at top) ———-
7/16/23: "wanted to thank you for the awesome pedal. It works as advertised and is exactly what I needed on my pedalboard. Photo attached. Thanks, JT"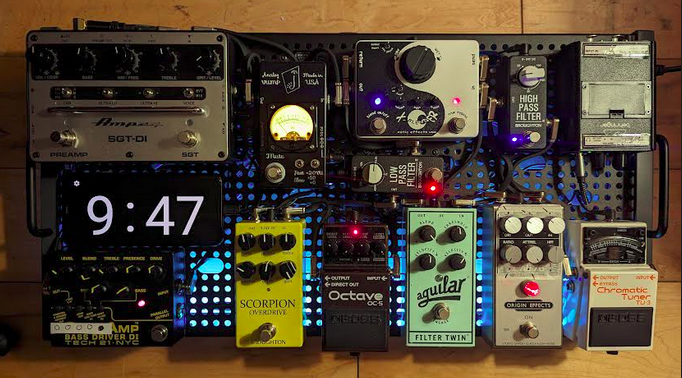 10/23/22: "Thanks again for your two meter devices [Mini-VUMP and Analog-VUMP; he has both!!]. They are both exactly what I was hoping for, each in their own way 🙂
I've been putting the Mini-VUMP in various parts of my pedal chain to gain stage the signal with a *precision* I couldn't even imagine before. And, I use it to set an input level to pedal compressors so that it is consistent on the next start up for playing or re-amping.
The Analog VUMP is delightful! It has a lively and responsive bounce. I use the "fast" setting for voice and keys, but back it off to the "slow" setting for fast intense transients like picked guitar. It's just what I was hoping it would be. 😀 — M.J., KS